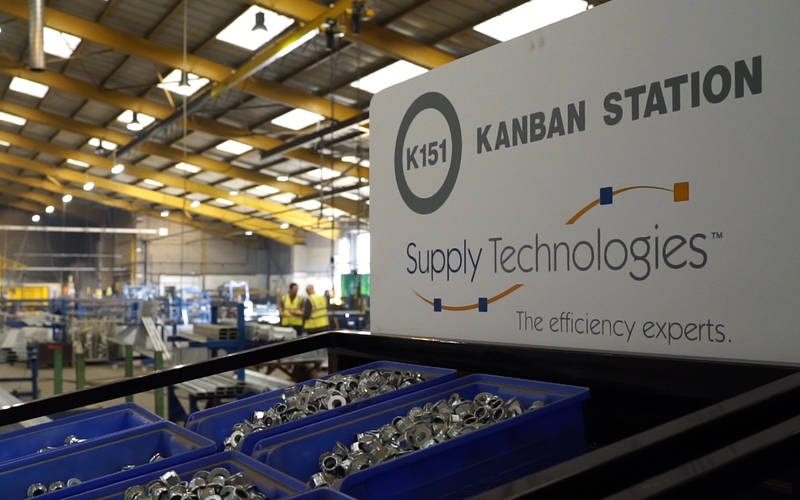 Supply Technologies supports growth in Gateway Chassis manufacturing operations with efficient component supply system
Supply Technologies is expanding its presence in the UK leisure vehicle market with a new partnership with Gateway Chassis Solutions, which has developed an innovative new system for chassis production.
Gateway Chassis Solutions designs and manufactures a range of chassis for caravan holiday homes, leisure lodges, and residential park homes. As demand for 'staycations' increases, the Hull-based firm has developed an innovative new type of chassis which uses a range of components and specialist tools, improving efficiency, and increasing the product's sturdiness.
Supply Technologies has provided its Kanban and vending machine solutions to help Gateway Chassis improve the efficiency of its manufacturing processes along with the management of purchasing, stock control and storage of key components, ranging from nuts and bolts to hole-saws and grinding discs required for production.
With a vast array of experience in the caravan and holiday home industry, Supply Technologies has previously been awarded top supplier rating by national caravan manufacturer The Swift Group. Building on this and other relationships in the sector, the company continues to fulfil its strong ambitions to increase its UK presence in the market.
Chris Ramsden, Managing Director of Gateway Chassis Solutions Ltd, said: "Our new innovative procedures are all about value engineering, and giving the customer what they want, to suit the product.
"The feedback from the shop floor has been really good, they've got access to the vending machines, and the stock replenishment is there exactly when they need it. Historically, there were situations requiring trips to the purchasing department, that doesn't happen now, which saves time and it is much more efficient. It's great."
Gary Russell, Director of Business Development - UK Supply Technologies, said: "The technology installed is there to streamline the business and create efficiencies in both time and money. As demand increases, it is vital to have a highly efficient process that is supported by an agile supply chain. This is achieved by holding a good stock of every component required in the manufacturing process, and the ability to react to any changes and respond to situations rapidly.
"It's encouraging to see the British caravan sector experiencing a positive period. The industry employs tens of thousands of people and we are proud to be supporting them with this new partnership with Gateway Chassis Solutions Ltd."