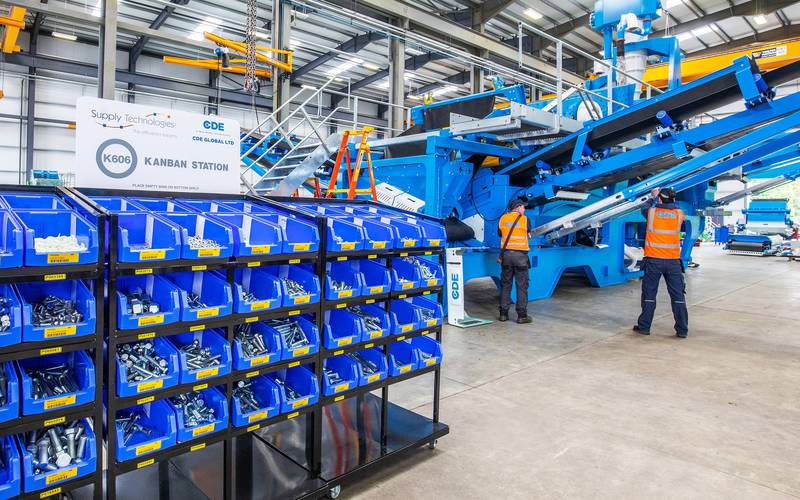 Supply Technologies supports CDE's manufacturing operations growth with efficient component supply system
Supply Technologies has formed a new partnership with CDE to support its global manufacturing operations in wet processing equipment for quarries, mines and recycling operations on the global market.
The company, which has a network of nine UK and Ireland branches, supplies a large range of component parts used in the manufacture of CDE's equipment which has applications across a wide range of materials, and is delivering significant efficiencies in the construction and recycling, mining, industrial sands and environmental sectors.
Industry leading manufacturer CDE has experienced rapid growth on a global level which led to the requirement for a more efficient supply and servicing process that could keep up with demand in its global manufacturing and assembly facilities.
The agreement was reached after a full review of CDE's manufacturing processes and facilities, with Supply Technologies identifying opportunities to streamline processes and create efficiencies in both costs and time as well as improving quality.
The agreement has seen Supply Technologies' system seamlessly installed in CDE's manufacturing and assembly sites in Northern Ireland. As part of the partnership, Supply Technologies will take over the management of more than 800 components through 100 Kanban stations located at its Northern Ireland facility, which will create a more effective stock control system and drive cost efficiencies.
Gary Russell, Director, Business Development – UK, at Supply Technologies said: "Supply Technologies has invested considerable resources and expertise in CDE to support a business that is growing year on year. As the pace increases in their manufacturing processes, it is vital that they have a highly efficient process that is supported by an agile supply chain.
"Supply Technologies has a strong track record of supporting manufacturers and we are very proud to expand our customer portfolio with this new partnership with CDE. The whole process was very smooth as it is demand-driven system fully-managed by Supply Technologies, with no input required from the customer so the transition is always seamless."
Ben Hunt, Head of Operations at CDE Global said: "It was vital for us that the transition to Supply Technologies' system was seamless. The high level of expertise was evident from the moment that the team undertook the initial review and quickly came up with a workable solution, and we are confident that this system will help to establish a long term partnership that will support our growing global footprint."