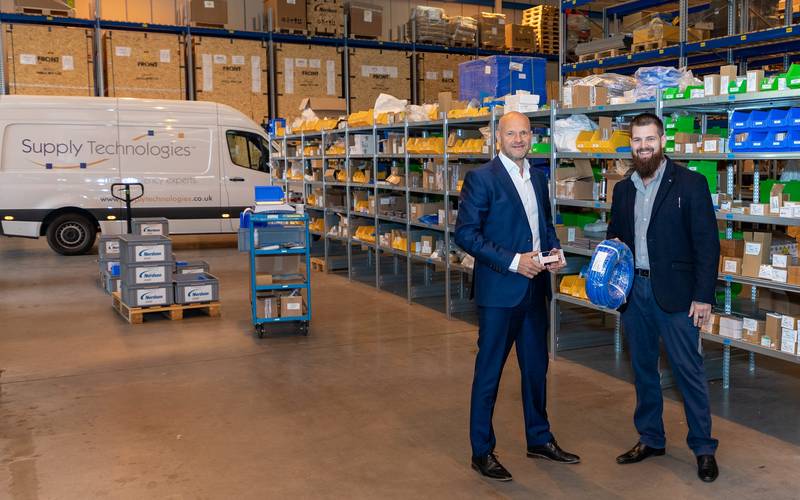 Supply Technologies invests in new Aylesbury branch to support growing south of England customer base
Supply Technologies has doubled the size of its operation in the South of England by moving to larger premises in Aylesbury.
The new 20,000 square foot distribution facility, which is located on Millennium Point in Broadfields, will enable the company to support an increasing number of recently secured new customers and provide capacity for further growth.
Moving to the new facility continues an established presence in Aylesbury, having established its original branch in the town in 2015.
Housing thousands of components and consumables the branch supports customers in many sectors which include medical, high-tech, and general manufacturing. The facility is managed by an experienced team led by Branch Manager Tomasz Pleszka.
Tomasz, who is from Wendover, has been promoted to the position after almost a year as Office Procurement Manager.
Supply Technologies helps its customer base improve the efficiency of manufacturing processes, along with the management of stock control and storage of key components required for production.
This is supported by the capabilities within its facility, including a highly efficient warehousing system to maximise its stockholding capacity together with the latest material handling technology and warehouse management software to provide customers with optimal levels of service.
Tomasz Pleszka said: "I am very proud to take on the role of Branch Manager as we move into new, larger premises. We are experiencing strong growth and demand for our services as manufacturers look to increase the efficiencies of their operations and this new space provides the capacity and increased stockholding to ensure they get the components they need at the right time."
Adam Morris, Supply Technologies' Regional Operations Manager – UK South, said: "Our Aylesbury branch is strategically important to our business and our ability to support the cluster of manufacturers that operate across the South of England. The growth in our established customer base coupled with recently added new accounts, has driven the need to invest in this new facility.
"We are very pleased to be able to promote Tomasz to Branch Manager. He is an example of the talented team we have in Aylesbury who provide a highly proactive and collaborative service to our customers."