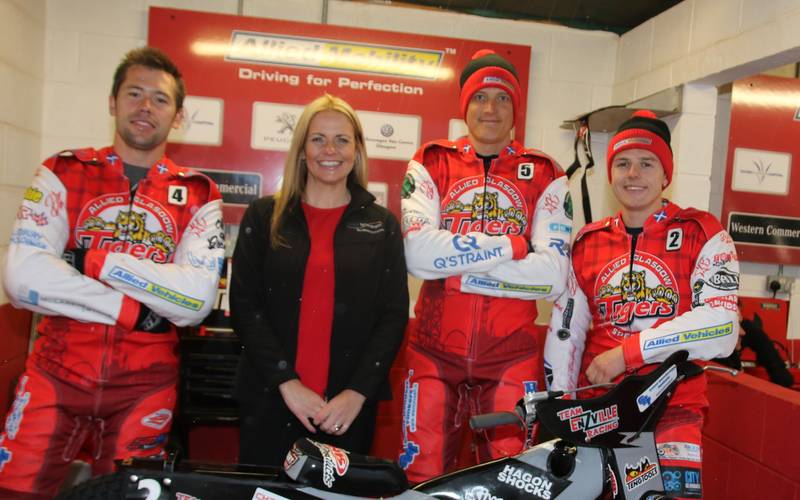 ​Supply Technologies helps Glasgow Tigers roar on the speedway track
Supply Technologies is accelerating into the world of speedway with a new partnership with Glasgow Tigers.
The company's first venture into this thrilling sport will see its logo appearing on the advertising hoardings at the team's home track at Peugeot Ashfield Stadium, Glasgow as well as in official programmes.
In addition, as part of the agreement for this current season, the company will also host guests at home fixtures in the stadium's corporate hospitality boxes.
The company was introduced to Glasgow Tigers by the team's owner and Supply Technologies' client Allied Vehicles towards the end of last season, but this is its first season-long sponsorship deal.
Glasgow Tigers were founded in 1946 and had an intermittent residence at the White City Stadium until it closed in 1968, followed by a brief four-year spell at Hampden Park. In 1999, they moved to their current home, Ashfield Stadium, re-named the Peugeot Ashfield Stadium in 2015.
The 2019 season begins in April and the team will feature Craig Cook from Whitehaven, the former Grand Prix star, who joined the Tigers in 2018, Claus Vissing and Rasmus Jensen, both from Denmark, and Luke Chessell from Swindon.
Robert Mackenzie, Glasgow Tigers' Marketing Manager, said: "I'm delighted to welcome Supply Technologies to its first full season as a corporate sponsor of the Glasgow Tigers. I'm sure being involved in Speedway will help raise the profile of the company as well as providing thrilling entertainment for its staff and corporate guests.
"Our sponsors are committed to helping the team achieve success in the sport and the backing of companies such as Supply Technologies is vital to our future success."
Gary Russell, Supply Technologies' Director of Business Development UK, said: "Through our relationship with Allied Vehicles we are very proud to give Glasgow Tigers our backing. Speedway is an exhilarating sport and a great spectacle, and we look forward to hosting clients, staff and guests at the stadium next season."