The Company

Plaxton was established more than 100 years ago and has grown to become a key name in the passenger transport industry in the UK and internationally.
More than 20,000 Plaxton buses and coaches are currently in service around the world, testifying to the engineering skills and manufacturing expertise behind the products.
Plaxton's state-of-the-art plant at Scarborough makes buses and coaches including the Cheetah, Profile, Paragon, Panther and Elite models, which are the undisputed market leaders in their classes. 2007 was a key year for Plaxton, which celebrated a century of trading as well as becoming part of Alexander Dennis Limited (ADL), Britain's biggest bus builder.
Since then Plaxton and ADL have reaped the rewards of major operational synergies, developing new world class products for the global market and expanding capacity to consolidate the group's position among the world leader's in bus and coach production.
Product development is integral to the Plaxton culture. Over the last century, the company's philosophy has been to talk to its customers, anticipate their needs and develop vehicles that reflect constantly changing market dynamics.
As a result, products cover a range of sizes and application; from 16 seats up to 70 seats; from local service vehicles to luxury and express coaches capable of covering huge distances.
The background
The Plaxton Scarborough plant is a manufacturing operation requiring highly responsive suppliers to accommodate lean procedures, and an ever increasing growth in production. Consistently meeting these challenging needs became all the more demanding when the production of all Plaxton vehicle chassis was switched from the ADL Guildford site, to the Scarborough plant in 2011.
Supply Technologies was appointed as a supplier to the ADL Group in 2009 and since that time has introduced significant measurable improvements into the Guildford and Falkirk sites.
As a result of the proven success in Guildford and Falkirk, Supply Technologies was given the opportunity to further demonstrate its exceptionally high levels of service by managing the new chassis line as it was transferred to Plaxton, this being one of six production lines at the Scarborough plant.
The benefits became apparent as soon as the Supply Technologies system was introduced. It highlighted the inadequacies of the existing long standing arrangement. It became clear there was a need for change.
"The main drivers for change were the need for improved service and responsiveness, and a greater knowledge base of the staff"
"Before the changeover, we were constantly running out of products and there were frequent breakdowns in communications with our previous supplier".
"The upshot was that we had been experiencing problems with overfilled bins; empty bins; inadequate racking; and generally untidy work areas. In addition, stock out situations became a major issue that was unsatisfactory going forward".
Russell Hayes, Commodity Buyer, Plaxton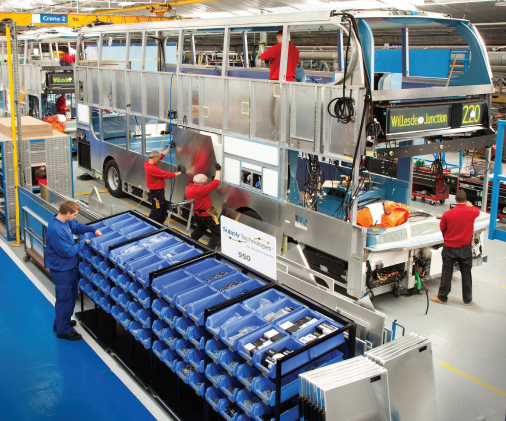 Problem diagnosis
An in-depth site survey revealed the following issues:
Products were located in the wrong areas for production.
Slow moving product was over stocked.
Fast moving product had insufficient kanban capacity.
Inadequate housekeeping of kanban stations and work areas.
All of the above resulted in frequent stock outs.
Compounding the above problems, the absence of reporting on the usage of parts made it impossible to resolve issues. The previous supplier was unwilling to provide management reports which made the situation untenable going forward.
Solution
The benefits that could be achieved across the entire Scarborough facility became evident when Supply Technologies was invited to give a full presentation to the Plaxton management. The presentation proposed:
The installation of the Supply Technologies two bin racking system throughout the factory. This fully managed system has been proven over the last 25 years and completely eliminates stock outs.
Increased on-site presence by the Supply Technologies distribution team, to ensure:
- Dedicated day-to-day management of the kanban system.
- A high level of communication between Supply Technologies and Plaxton.
- A permanently clean and tidy system.
- All amendments completed within the shortest timescale.
Regular usage reporting to provide accurate information for routine Kanban review meetings.
"The presentation to our management team was professionally delivered and well received".
"Supply Technologies guaranteed a much more effective and efficient approach. This was underpinned by proposals for a tidy, smooth-running and well maintained system, which was subsequently borne out in practice".
Russell Hayes, Commodity Buyer, Plaxton
The next stage was a comprehensive site survey. This took approximately three months and involved a Supply Technologies team, led by Gary Russell, in consultation with Plaxton managers and shop floor operators.
The process reviewed and established the exact product requirements in each area of the factory; and identified better locations for kanban racks and higher stockholding capacities for the bins, to deliver unbroken supply throughout the production process.
"When we had decided to use the Supply Technologies system, their team listened carefully to our requirements and we soon realised that they had a very thorough understanding of our factory layout and production processes".
Grahame Deighton, Site Buyer, Plaxton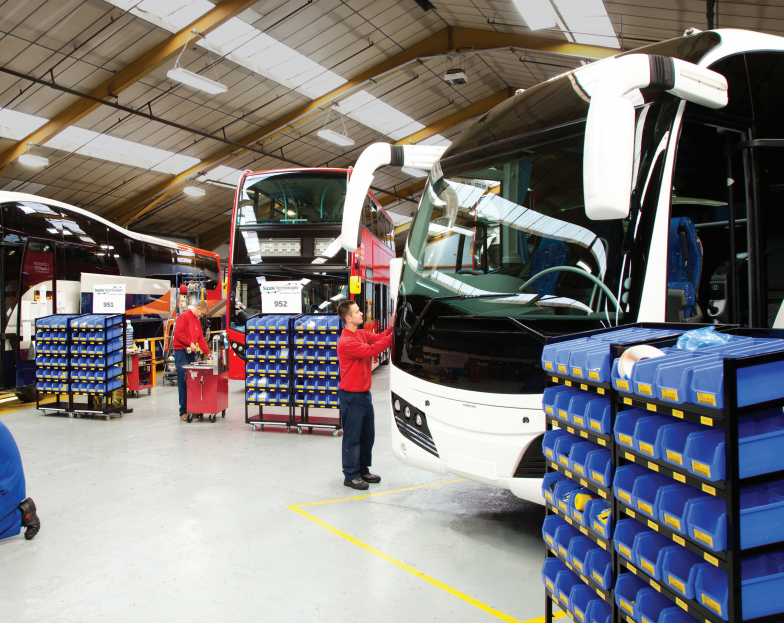 Implementation
Before the switchover the entire Plaxton workforce were given presentations over two days by the Supply Technologies team, to explain how the new system would be implemented and how it would operate in practice on the shop floor.
Professional planning for the changeover ensured a slick transition that was completed within two days without any disruption to production.
"Our senior management team were pleasantly 'underwhelmed' and the entire process gave us a level of assurance that we had chosen a supplier who really understood our business and would help us to move forward on a positive and productive footing".
Russell Hayes, Commodity Buyer, Plaxton
Gary Russell added:
"The changeover went very smoothly indeed and the Plaxton senior management team were delighted that such an extensive project had been accomplished with so little disturbance.
The experience had an extra benefit that it gave Plaxton management team a practical demonstration of our efficiency, which assured them that they had selected the right supplier for a productive partnership".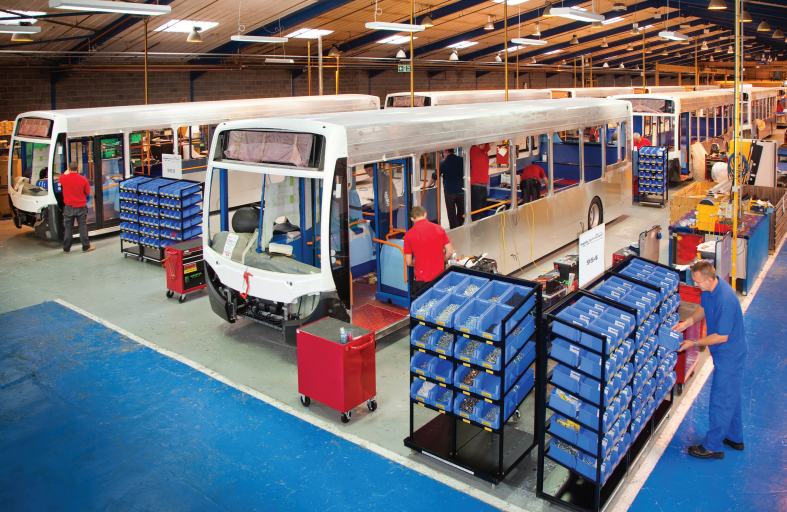 Conclusion
As a result of working with Supply Technologies, Plaxton has gained significant improvements to service and product quality, and a more efficiently organised shop floor.
The switch of supplier has enabled Plaxton to benefit from better stock control thanks to Supply Technologies's thorough grasp of their schedule requirements.
"We have been happy with the service that Supply Technologies has provided at the Plaxton Scarborough site and at the other ADL sites at Guildford and Falkirk"
"They continue to provide an excellent level of service, backed up with knowledgeable staff who are able to deal with new parts, queries or issues swiftly and efficiently".
"Supply Technologies work hard and diligently to support our operations, with sensible stockholding levels and effective elimination of waste".
"The improvements that have taken place represent positive proof that our choice of Supply Technologies as our Kanban partner was correct. I have no hesitation in recommending Supply Technologies as a fantastic supplier. There have been no major supply issues and we are delighted with the changes they have brought about. They are like a breath of fresh air".
Russell Hayes, Commodity Buyer, Plaxton
Gary Russell added:
"In terms of the supply of small components, Plaxton's have now got the product they want, where they want it, and they are never running out of stock. The upshot is that more products are going into the production line much more quickly and this will translate into greater efficiency and productivity".