McMullen Facades is a leading specialist facade contractor that provides full design, fabrication and installation of aluminium curtain wall and window systems for medium and large scale building projects.
McMullen has a professional team that "Brings the Architects Design to Life". Specialising in fully-integrated façade design, it offers its clients and customers a range of high quality, fully tested, facade products which give a "one stop, low risk" solution.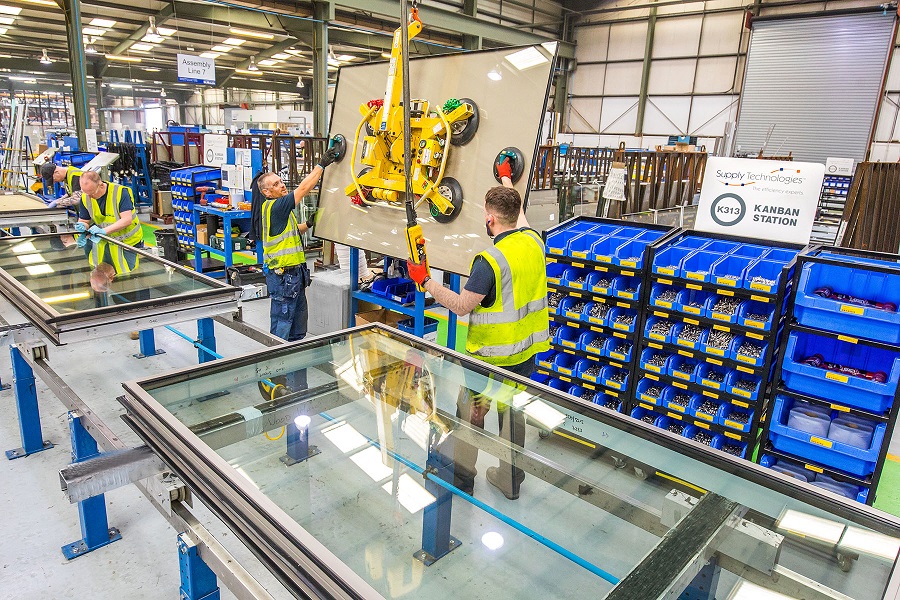 The Problem
McMullen currently employ approximately 200 staff running seven production lines producing bespoke facades for a range of important contracts.
The manufacturing process requires thousands of components on a daily basis. Each may be used in multiple locations across all seven production lines and every component, no matter how small or inexpensive, is critical. If any component runs out, it creates a line stoppage and the resulting costs to the company are catastrophic. The resources required to control hundreds of various different components from dozens of different suppliers is disproportionately expensive, especially for low value items.
Supply Technologies was invited into McMullen Facades. Following a series of meetings, which included a full site survey, a clear picture began to emerge, and a solution was agreed between the two companies.
The Solution
Supply Technologies to take over the management of 400 parts from approximately 20 different suppliers.
Bulk Stock holding of all parts to be held at Supply Technologies County Antrim branch.
14 Kanban stations to be set up to support seven production lines.
Daily visits agreed to service all Kanban stations.
Kanban is a proven system which Supply Technologies has used to support dozens of blue chip manufacturing companies, globally, during the last 30 years. Kanban is a demand-driven system fully-managed by Supply Technologies, with no input required from the customer.
Components are set up on each Kanban station, with pairs of bins for every part. As parts are consumed the first bin is emptied. The empty bin is the trigger required to supply more stock. In the meantime, the second bin continues to support production.
The system guarantees there will always be stock availability without overstocking. All products are barcoded and supplied with full batch traceability.
Supply Technologies uses the Kanban system to supply a full range of nuts, bolts and screws as well as tapes, CNC tooling, drill bits, packing and consumables. McMullen Facades can now focus its resources on the rest of the supply chain involving some of the more valuable materials required.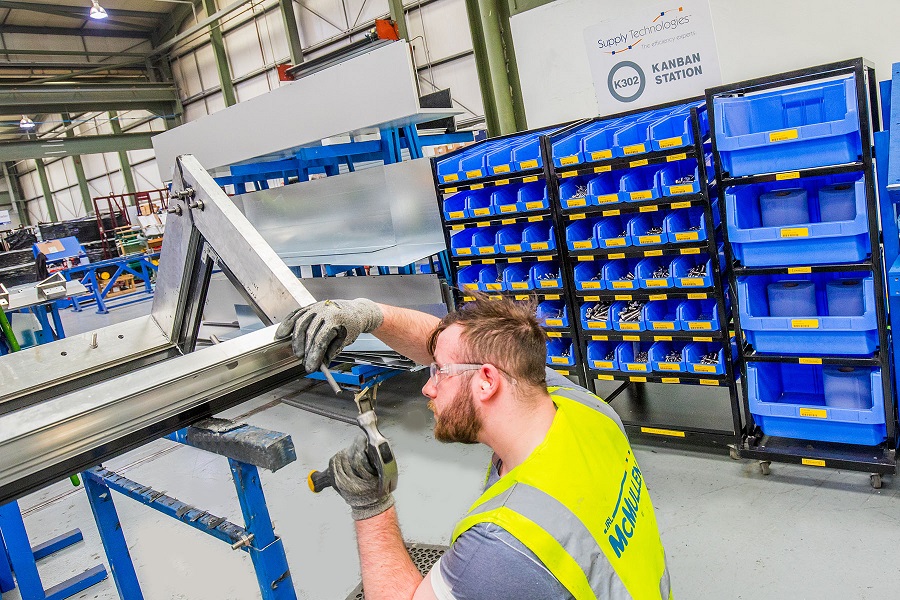 Results
Multiple purchase orders no longer required.
Only one supplier to control and manage.
Time saved at goods inwards.
No stores or sub stores locations – Goods straight to point of usage.
Zero line stops.
No carriage charges.
Savings are the net results of the project. Savings are achieved at every part of the procurement process. All adding up to a major cost saving contribution to McMullen Facades.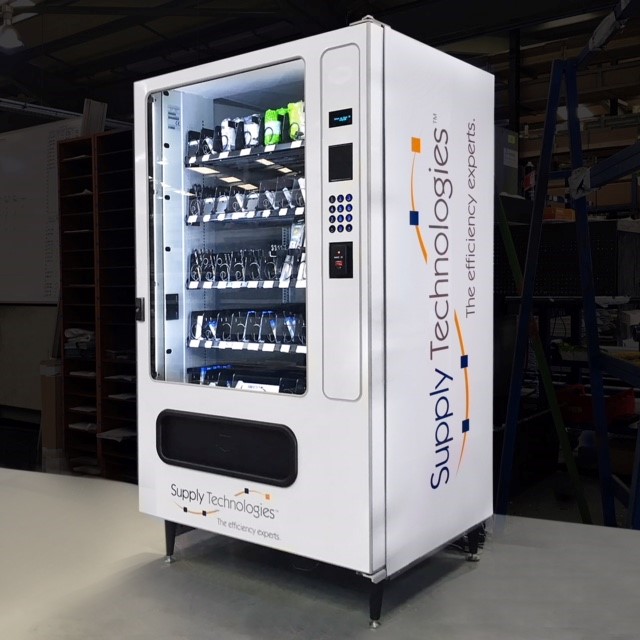 Next Steps
Kanban is a dynamic system that evolves and grows over a period of time in order to meet the customers ever changing production demands. The plan going forward is to increase the components supplied through the system and to further reduce the supply base. Supplier rationalisation is a key part of the cost reduction strategy.
Vending technology is to be introduced to compliment the Kanban system.
Vending machines are an ideal way to control the consumption of some of the more valuable consumable components used within the factory. Every vending machine is customised so that each employee only has access to the range of items they use. Vending machines are sited at point of work locations and each vend is recorded and consumption reported against each employee. The results can be dramatic. It is not uncommon to see a reduction in consumption of between 20% and 40%.
Conclusion
As a result of working closely with McMullen Facades and by understanding its exacting requirements, Supply Technologies has delivered a bespoke solution to tackle the inefficiencies of a previously muddled inventory management process.
It had evolved as a largely unplanned response to sudden periods of rapid growth and was unable to keep pace with the increasingly complex demands of the business. Failures in the resupply chain resulted in costly production breaks while, at the same time, wrongly located items simply gathered dust.
McMullen Facades has benefitted significantly from increases in efficiency, quality and cost savings through the integrated and coordinated approach introduced by Supply Technologies.
Now, inventory is always available to meet the specific demands of each of the seven production lines, ensuring there are no shortages and that staff always have the necessary components to hand, exactly when and where they are needed.
Furthermore, the whole system is managed by Supply Technologies' staff, which provides high levels of service and technical support.
The Kanban system has been pivotal in allowing McMullen Facades to increase productivity by creating a leaner manufacturing process. It also allows management to relinquish the considerable challenges involved in inventory management and focus instead on growing the business.