The Company

The Explorer Group is the UK's second largest caravan and motor home manufacturer.
The company's award-winning Elddis, Compass and Buccaneer brands are three of the best known in UK touring history. This year, the three brands celebrate their combined 100th anniversary.
The Explorer Group boasts a 265,000 sqft manufacturing operation in Consett, County Durham, where it employs over 450 staff, competing with some of Europe's best manufacturers.
With a turnover of £56million, the Explorer Group manufactures 5,200 caravans and over 1,000 motor homes per year.
The Background
ONE motor-home requires approximately 30,000 small components or parts per vehicle, placing great emphasis on a quick and robust component replenishment system. "The downtime cost to the company if we missed even a basic fastener would be enormous," said Carl Peacock, chief buyer at Explorer.
The company was generally satisfied with its previous 20-30 suppliers of small components and consumables, which used a basic top-up bin system, but admitted it could be improved.
However, 2002 was a catalyst for change for Explorer. One year after moving into its new Delves Lane site, the company was not achieving its full potential. New board members were appointed, bringing in fresh ideas and direction, and the management team was given more authority to make decisions.
The attendance of Explorer's finance director, Rob Quine, at a breakfast seminar entitled: 'Improving Profitability through Strategic Sourcing', would also lead to major change to its panel of suppliers of small components and parts.
Following the seminar, Rob made a decision to hold an e-auction to review two categories of supplies: phase one covered timber products and phase two encompassed a selection of small consumables.
Explorer appointed a firm of external consultants to manage the e-auction process, asking companies to tender for the provision of timber supplies used to construct the frame and kitchens in its motor homes and caravans. The exercise resulted in a 3% reduction in costs.
Phase two was a similar process.
Companies – including Supply Technologies - were invited to the e-auction to initially tender for prices for specific products. Explorer then invited a shortlist of companies to make formal presentations.
Supply Technologies's reputation for quality and service proved second to none. They were offering good competitive prices although they were not the very lowest in price.
Carl Peacock explains: "There are suppliers that will offer us huge reductions in costs but it's not all about margins. Service, speed and quality are just as, if not, more important in finding the right supplier, which is why we invited Supply Technologies to the final selection process."
Managing Director, Mike McHugh, and North East sales manager, Gary Russell, impressed Explorer with their commitment to quality and blueprint for success. Explorer were invited to scrutinise the Supply Technologies system in action and subsequently went to visit a customer to see exactly how the live system functioned. The decision makers were impressed with everything they saw and felt that Supply Technologies's proposal offered the best value for money.
Rob Quine said: "Supply Technologies was competitive in a pricing sense but we needed to ensure that we could trust and work with the winning supplier, especially if it was a new one to our business.
"Supply Technologies won the business because they demonstrated the highest professionalism in all aspects of our dealings with them."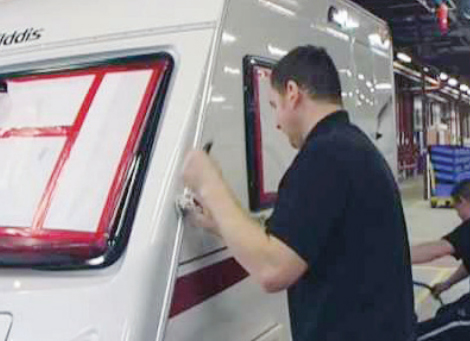 Problem diagnosis
In analysing Explorer's current situation, Supply Technologies carried out a series of on-site surveys.
"It is vital we get under the skin of the business," said Gary, who, with his team interviewed buyers, performed a factory floor satellite analysis and scrutinised all administration procedures. The problems were quickly identified:
Bins were left over-stocked resulting in increased inventory levels.
Money was tied up in excess stock and wastage was chronic.
Explorer was using too many suppliers, creating extra work for the administration team processing invoices.
Explorer had no control over stock supplies.
bins were very untidy, which created a cluttered shop floor and working environment.
Overstocked bins resulted in spillages onto the shop floor, increasing punctures on delivery vehicles and increased delivery downtime.
No management over stock. Explorer had no information on how many parts were being processed.
Solution
Supply Technologies realised that it needed to adopt a proactive and assertive approach to replace Explorer's outdated supply arrangement with the new Kanban system.
Modelled on the Japanese "card" system first used by Toyota, Supply Technologies's Kanban system uses replenishable bins, directly at the point of use in the assembly areas.
Parts are stocked in bins to exact requirements and are replenished through an automated system managed by Supply Technologies's support team.
Once Supply Technologies's team had established what was required for each Kanban station on the Explorer factory floor, the previous functions in procuring parts, including goods in inspection, purchasing, expediting and the responsibility of keeping the production lines going, passed to Supply Technologies.
Supply Technologies's sophisticated computer software system, and the use of bar coding, provides accurate bin replenishment. There are also highly visible batch trace cards, which shows at a glance the bin's previous movements.
This system, developed by Supply Technologies and proven since 1988, guarantees continuous stock availability on a huge range of products, working with minimum stocks and conveniently sited on the shop floor.
Whilst the initial brief was for Supply Technologies to supply a select range of fasteners, Explorer soon asked Supply Technologies to supply other parts. Today, Supply Technologies supplies over 400 product lines including fixings, staples, brackets, hinges, terminals, pipe fittings, plastic parts, magnetic catches, rivets as well as screws and general fasteners.
It wasn't long before Explorer saw the benefits:
Labour redeployment.
No line stoppages.
no purchasing administration, scheduling or expediting.
No goods receiving or inspection.
No warehousing or sub-store replenishment.
Flexibility to contribute to continuous improvement.
Substantial supplier rationalisation
Implementation
ORCHESTRATING a switch from a basic bin top-up system to a total supply management system for 450 staff was never going to be easy but Supply Technologies's team set about making the transition as seamless as possible.
Supply Technologies implemented a training programme encompassing an intense two-day on-site workshop with senior managers. "The training programme was well-planned, smooth and articulate," commented Carl Peacock. The presentations were supported with information packs and handouts.
Carl added: "The first three months were a culture shock to the workforce but with a Supply Technologies support representative on-site five days a week, any problem or query was quickly resolved. Employees soon gained confidence in the Kanban system and Explorer reaped the benefits."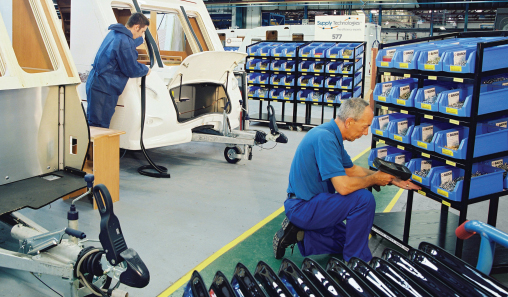 Conclusion
THE Explorer Group has used the Kanban System to supply more than 400 small parts and the list is constantly growing.
Rob Quine reveals that since signing-up to the Supply Technologies Kanban System, several benefits have been achieved including cutting costs and a reduced inventory.
He said: "The previous system was very untidy and inefficient and because of the lack of control, resulting in much higher component costs.
"Despite all the inefficiency, production was not really affected because we compensated by purchasing and holding excess stock, so we didn't suffer stock outs or line stoppages. However, the business was affected by chronic waste. Money was simply tied up in stock and excess labour costs to move the components around internally.
"The Supply Technologies system has improved all aspects of our supply chain. The Kanban System has brought lower costs, lower inventory, improved analysis of usage of individual parts to aid day-today management, tighter controls leading to improved product quality, and a better working environment. It has even led to a reduced number of punctures from loose nails or screws."
Supply Technologies managing director, Mike McHugh, added:
"The system works well and we are continuing to investigate which additional products are capable of being added to the Kanban System.
"Adopting the Supply Technologies system has brought significant benefits to The Explorer Group and the system is perfect for the touring caravan and motor home production process. We are probably the largest supplier of small components to this manufacturing sector within the UK."
Whether it's the caravan wheels or the production line – the principle remains the same: The smoother the motion the better. And in Explorer's and Supply Technologies's case – the supply chain is certainly being kept on the move.