Supply Technologies
For more than 40 years, Supply Technologies has had one defining goal: to enable any manufacturer of any size to build its products better, smarter and faster than ever before.
Today, with more than 1,200 employees located in 70 facilities across three continents, seamlessly managing and supplying tens of billions of parts and materials annually to countless numbers of the world's most demanding manufacturers, it is doing just that.
Supply Technologies has expertise in every aspect of inventory management. Making full use of the most advanced technologies, it offers an unrivalled range of supply chain delivery solutions, helping to provide production efficiencies that enable customers to increase their competitive position in the market place.
CDE
CDE is a leading provider of wet processing equipment for quarries, mines and recycling operations on the global market.
The CDE equipment range has applications across a wide range of materials and is delivering significant efficiencies in the construction and recycling (CD&E), mining, industrial sands and environmental sectors.
Working across five sectors and eight regions globally, CDE has been co-creating with customers for more than 25 years to deliver collaborative, imaginative and unique processing systems.
CDE headquarters are located in Northern Ireland. The company also has teams based in Ormeau, Australia to serve the Australasian market; Kolkata, India to serve the Asian market; Dubai, UAE, to serve the MENA market; South Africa to serve the sub-Saharan Africa market, and Graz, Austria to serve the Europe and Russia markets. CDE's Centre of Excellence in Texas and base in North Carolina ensure the company effectively serves the North American Market, with a team based in Belo Horizonte, Brazil, to serve the Latin American market.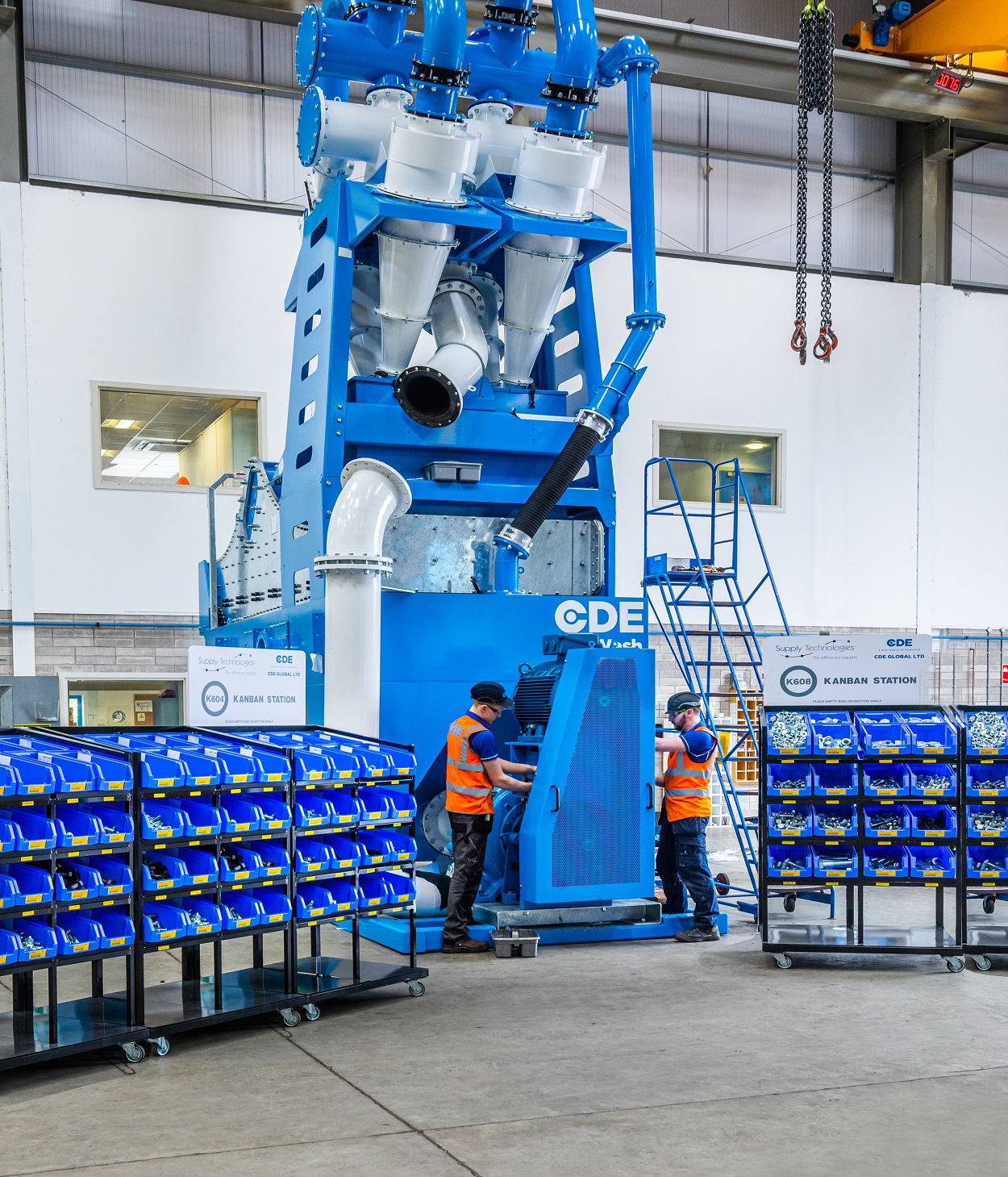 The challenge
Industry leading manufacturer CDE has experienced rapid growth on a global level. This led to the requirement for a more efficient supply and servicing process that could keep up with demand for its manufacturing and assembly locations in Northern Ireland, as well as fulfil requirements for equipment needed on various sites throughout the world.
The rapid growth strategy required global support, with a consistency of service throughout Europe and the USA that could be seamlessly transitioned to global sites on a longer term basis.
The CDE manufacturing process requires thousands of components on a daily basis. Each may be used in multiple locations across multiple production lines and every component, no matter how small or inexpensive, is critical. If any component runs out, it creates a line stoppage and the resulting costs to the company are significant. The resources required to control hundreds of various different components from dozens of different suppliers has been disproportionately expensive, especially for low value items.
The Solution
Supply Technologies to take over the management of 800 parts.
Bulk Stock holding of all parts to be held at Supply Technologies County Antrim branch.
100 Kanban stations installed to support multiple production facilities.
Daily visits agreed to service all Kanban stations.
Seamless transition to Supply Technologies systems, achieved in a short space of time.
Kanban is a proven system which Supply Technologies has used to support dozens of blue chip manufacturing companies, globally, during the last 30 years. Kanban is a demand-driven system fully-managed by Supply Technologies, with no input required from the customer.
Components are set up on each Kanban station, with pairs of bins for every part. As parts are consumed the first bin is emptied. The empty bin is the trigger required to supply more stock. In the meantime, the second bin continues to support production.
The system guarantees there will always be stock availability, with the correct level of stock eliminating overstocking as well as run-outs. All products are barcoded and supplied with full batch traceability.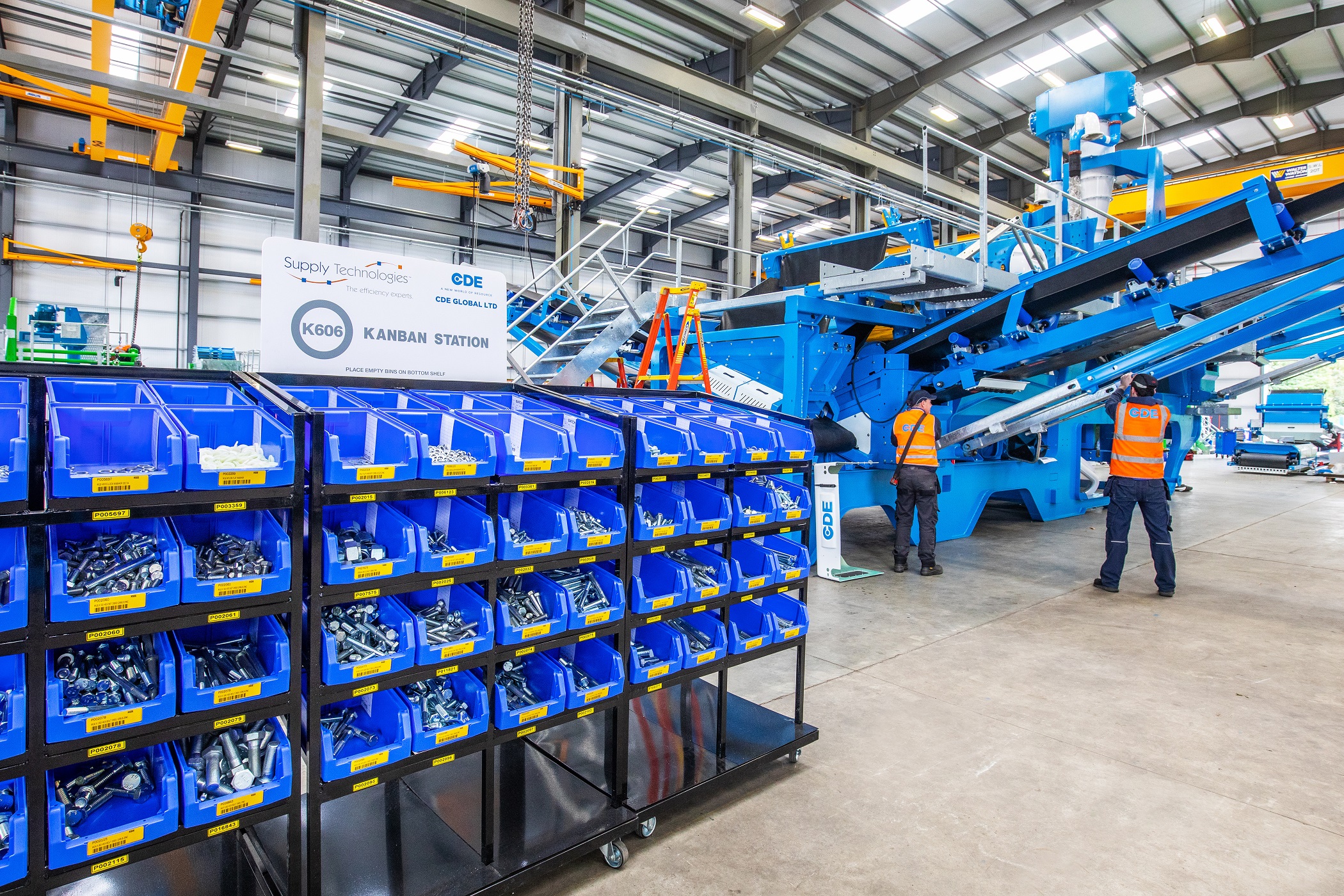 Results
Seamless system installation and transition between suppliers.
Rationalising of KanBan suppliers.
Reduced costs and time efficiencies.
No stores or sub stores locations – goods straight to point of usage.
No costly line stoppages.
No carriage charges.
Considerable savings in both time and costs are the net results of the project. Savings are achieved at every stage of the procurement process.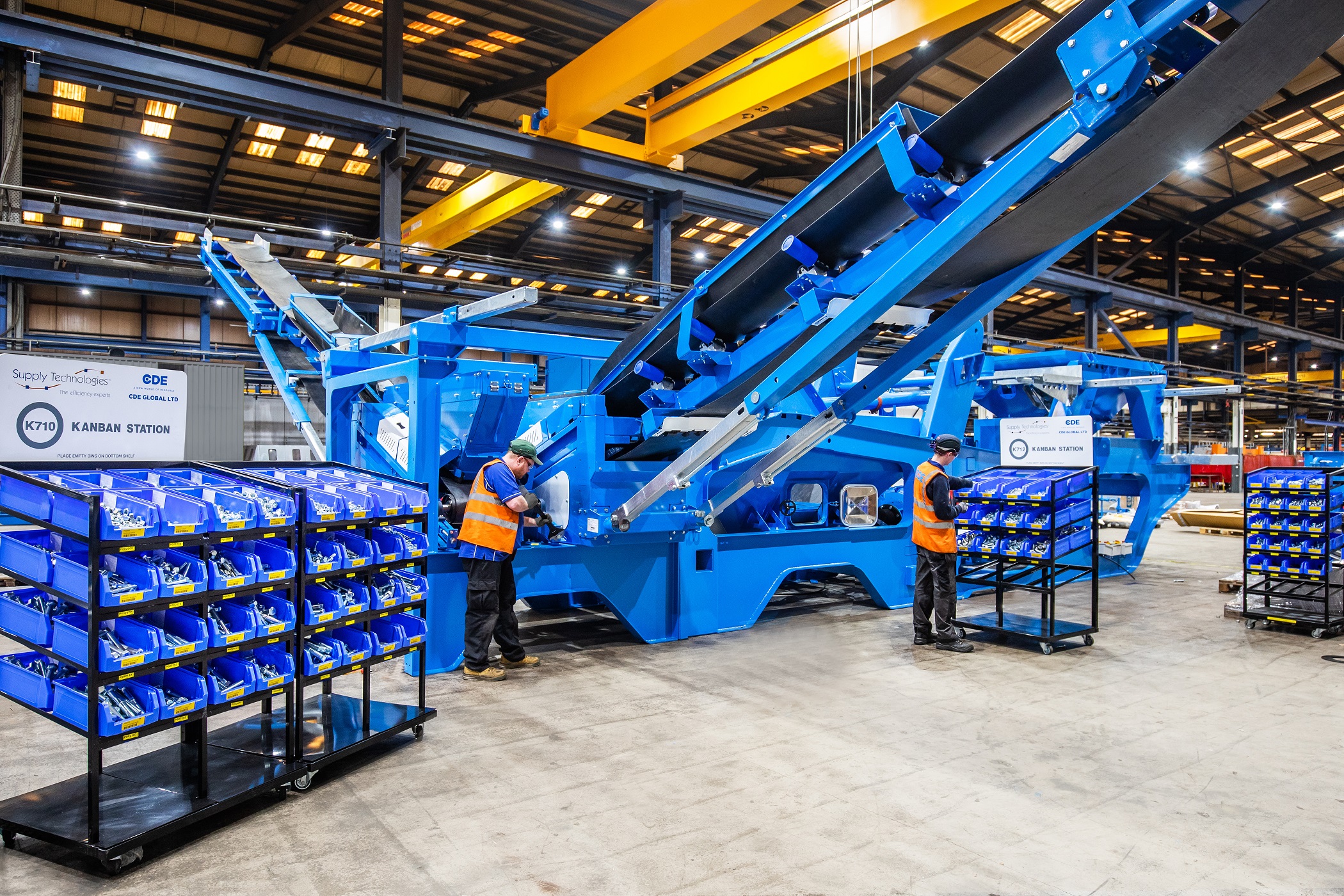 Next Steps
Supply Technologies aims to support CDE's continuing global expansion with a supplier partnership, replicating its Kanban system successfully employed in Northern Ireland.
Conclusion
As a result of investing considerable resources and expertise into CDE, and by understanding its exacting requirements, Supply Technologies was able to deliver a bespoke solution to support the continued growth of the global business.
CDE has benefitted significantly from increases in manufacturing efficiency, quality and cost savings through the integrated and coordinated approach introduced by Supply Technologies.
A seamless transition between suppliers was achieved, which was vital in ensuring there were limited interruptions in manufacturing processes and service delivery.
Inventory is always available at the correct level to meet the specific demands of each of the seven production lines, ensuring there are no shortages and that staff always have the required components to hand, exactly when and where they are needed.
The Kanban system has been pivotal in allowing CDE to increase productivity by creating a leaner manufacturing process. It also allows management to relinquish the considerable challenges involved in inventory management and focus instead on the longer terms growth strategy for the business.