The company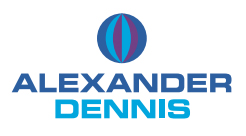 Alexander Dennis Limited (ADL) is the UK's leading bus and coach manufacturer, employing around 2,000 people at facilities in the UK, continental Asia and North America.
The fastest growing bus and coach builder in Western Europe, ADL encompasses three famous and successful marques – Alexander, Dennis and Plaxton.
ADL produces a wide range of innovative and fuel efficient, low floor single and double deck buses, plus a full portfolio of coaches, welfare and mini vehicles.
Its main manufacturing centres are Guildford, where chassis are manufactured, and Falkirk and Scarborough where bodies are assembled. Also essential to Alexander Dennis' success is a 300-strong customer support team.
Globally renowned for innovation with style, Alexander Dennis pioneered the low floor double deck and midibus technology that currently defines the market. Alexander Dennis was the first manufacturer to develop a revolutionary hybrid drive system for single and double deck buses, as well as the world's first high capacity hybrid double deck.
Genuine breakthrough technology is already achieving significant fuel and CO2 savings without compromising
durability and operator availability.
Bus operators running hybrid vehicles in London have been unstinting in their praise of the performance, fuel consumption and CO2 reductions achieved by ADL's Enviro200 and Enviro400 buses.
ADL is the only manufacturer to offer production-ready, consistently reliable, high performance hybrid buses that have been proven in service on London's roads.
The company is fully geared up to partner with bidders for the government's £30 million 'Green Bus' fund, designed to boost the development of low carbon buses in England.
Distinctive design makes Alexander Dennis buses instantly recognisable on the street, while unique interior layouts create extra space, comfort and seating.
The background
More than 1,000 bus and coach chassis are assembled annually by Alexander Dennis Limited (ADL) on eight different production lines at its Guildford Plant – a process that requires highly efficient lean manufacturing procedures, supported by a strong, highly committed supply chain.
The management in the Guildford factory were very aware that an uninterrupted supply of small components was essential to meet its production requirements because this goal seemed impossible to achieve with their previous, long standing supplier, it was definitely time for action and time for a change!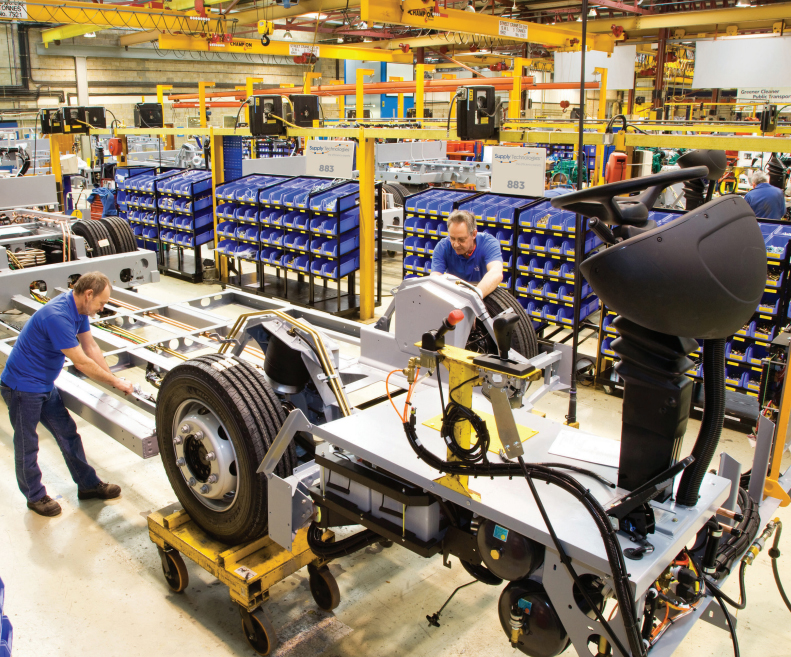 Problem diagnosis
An efficient 'managed inventory' supplier should have systems in place to ensure that the end user has a seamless supply of parts delivered direct to the production areas, driven by the demand at the point of assembly. Unfortunately this did not happen at ADL in addition, it was clear that the support level and response from the supplier was extremely poor. The ADL team highlighted some of the main issues:
Line stoppages /Stockouts
Complacency/Poor Response
Quality Problems
No reporting/Business development
Communication
"The previous supplier was running a one bin system with no permanent on-site representative and a driver topping up and scanning stocks three days a week," commented Tony Crowdle, ADL Head of Operations.
"As a result we suffered from excessively filled bins; empty bins; poor racking; and generally untidy racking and bins. Some parts were simply left on the floor at the base of racks."
"The absence of a permanent on-site supplier representative also contributed to poor day-to-day service levels, which were not developed through fresh ideas on issues such as stock rationalisation.
Ongoing monthly accounts problems and incorrect pricing was another major failing," said Ian Thorpe, Senior Buyer at ADL. "The upshot was that we had lost belief in the previous supplier as the right partner for our business."
Solution
Supply Technologies entered into discussions with ADL's management team to investigate how the Guildford plant could benefit from a superior system and service. The senior management from Supply Technologies, relished the opportunity to work
with such a skilled manufacturer of a first class technical product.
Having established a full grasp of the situation, the objectives of the customer, the value and potential of the business, the Supply Technologies team presented its proposal which addressed ADL's key issues:
The Supply Technologies total small component management system is a fully managed two bin system, demand driven and guarantees no line stoppages
The size and prestige of ADL Guildford warranted a Supply Technologies 'envoy' permanently on site
'Long term' quality issues would be immediately resolved
The appearance of the Supply Technologies system would instill 'pride' in its existence within the factory
Customer support would be pro-active and professional
"The presentation to the management team was well received," said Phil Wentworth, ADL Plant Director. "Supply Technologies guaranteed a much more professional approach. This was backed up with a clean, well-organised and maintained system that has
subsequently removed all the problems that we were having previously."
"We explained the great importance we place on housekeeping of the kanban stations by Supply Technologies personnel as well as their close liaison with the client's operatives," said Gary Russell, Supply Technologies General Manager. "Our envoys ensure a cohesive logistical integration between the high-demand user and the 'Best Supplier' on a daily basis."
As part of the solution process a wide variety of problems had been identified and through careful reviews of parts, specifications, quantities, and assembly locations, improvements were put forward to make the assembly performance smoother.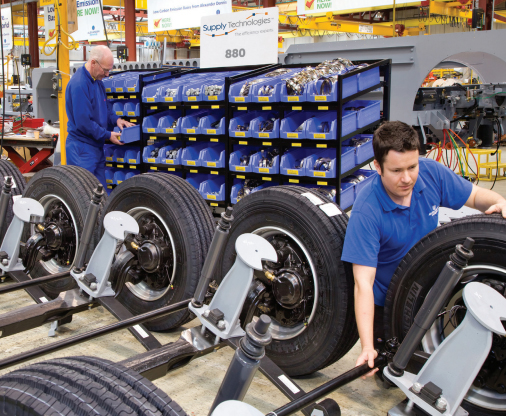 Implementation
"Once the agreement was made to proceed, the Supply Technologies team listened attentively to our requirements and made sure they had a thorough grasp of our factory layout and processes. All 850 lines or products were checked, specifications understood, and prices agreed," said Ian Thorpe.
A presentation to shopfloor operatives was then carried out, with Supply Technologies staff explaining that the support of the entire workforce was vital to the success of the changeover.
Supply Technologies's planning for the handover was in-depth and professionally organised to accommodate all ADL's requirements. This focused approach meant the implementation process was seamlessly completed over a weekend and the stock transfer expertly controlled.
A team of eight Supply Technologies staff, including senior managers, were on hand to implement the change, with several remaining at the Guildford plant for the whole of the following week to ensure there were no glitches, and to support the on-site envoy.
"Initially ADL were concerned at how Supply Technologiess were going to manage to transfer so many parts without causing supply issues, at least in the initial stages of the changeover," said Mick Mahon, Supply Technologies Group Operations Director.
"Indeed, the senior management at ADL were quoting phrases such as the 'big bang', as they were expecting line stops due to the size of the task. We told them that would not happen and it didn't.
When the transfer went as smoothly as it did, I think they were both surprised and pleased at the same time. Overall, though,
this gave them a level of assurance that they had selected the correct supplier to help move their company forward."
Conclusion
ADL has benefited significantly from an immediate improvement in service, product quality and availability. The shop floor is very professional looking and the Supply Technologies system sets a high benchmark for other suppliers into the factory. Supply Technologies has demonstrated a comprehensive understanding of the ADL business and its current and future requirements.
"Supply Technologies is proactive both on and off site, with staff who are both technically and commercially aware of our requirements and work diligently to support our build with sensible stockholding levels and waste elimination," added Ian Thorpe.
"The improvements we have seen confirm that our choice of Supply Technologies as our kanban partner was correct. We have every confidence in Supply Technologies going forward."
Supply Technologies recently added a large package of PPE/workwear to the kanban system after learning that ADL was having supply issues in this area.
"We are proactive in seeking other packages from our customers, so we asked if we could quote and did so successfully. The parts were added and the system is operating very well indeed," said Mick Mahon.
"From the shop floor to senior management, the working relationship has flourished between our companies," added Mick Mahon.
"Our on-site envoy has enhanced this. He is the day to day face of Supply Technologies, regarded for operational purposes as part of the ADL team."
Supply Technologies has a diverse portfolio of successful customers in key industrial sectors. It's performance and reputation ensures a very high demand for their services. High quality companies should always use the best suppliers and never settle for anything less. ADL made that choice.